Delta Hotels by Marriott Ottawa City Centre
Establishment, lodging and spa at 101 Lyon Street North, Ottawa, ON K1R 7Y5, Canada. Here you will find detailed information about Delta Hotels by Marriott Ottawa City Centre: address, phone, fax, opening hours, customer reviews, photos, directions and more.
Opening hours
| | |
| --- | --- |
| Sunday | 12:00am — 11:59pm |
| Monday | 12:00am — 11:59pm |
| Tuesday | 12:00am — 11:59pm |
| Wednesday | 12:00am — 11:59pm |
| Thursday | 12:00am — 11:59pm |
| Friday | 12:00am — 11:59pm |
| Saturday | 12:00am — 11:59pm |
Rating
4.6 /5
Based on 5 reviews
Photos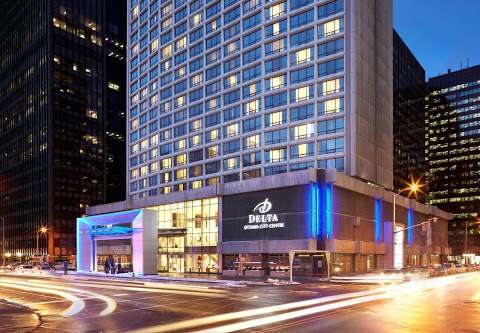 Reviews of Delta Hotels by Marriott Ottawa City Centre
Nikola Novak Added 2018-11-05

★ ★ ★ ★ ★

+ Extremely friendly front desk,modern restaurant and lobby. Rooms are pleasant and clean,with great working area and practical desk with connectivity typical of Delta chain. Decent lounge for status members. Gym is mediocre,functional. As of early 2018 pool us under reconstruction.
Location is convenient in the sense that it's central and on Sparks,but you are not as close to amenities like you would be at courtyard@byward.

Grace Woo Added 2018-10-22

★ ★ ★ ★ ☆

Modern and close to all the attractions. The rooms are clean and the staff are friendly, helpful and knowledgable about the area. This goes for the concierge to the cleaning staff. The rooms are small but comfortable and has all the usual amenities except there was no safe. Also the pool was going through some kind of major renovation so that bummed out the kids. There's also renovations happening at the hotel parking entrance, so that was hard to find when we first got there and easy to go in the wrong way.

Emily Parker Added 2018-09-27

★ ★ ★ ★ ☆

Excellent stay, the room was thoughtful, well designed and maintained. Loved the walk in shower and the desk. I had impeccable service from their IT service - brilliant! Great stay! The only thing I missed was the pool, which they are renovating and will not be open until the fall.

Janette Powell Added 2018-09-26

★ ★ ★ ★ ★

Had a private wedding in there best suite and stayed the weekend. Everything was absolutely amazing. Very clean, Great view, Great food, Great service from absolutely Everyone. I was treated like an absolute queen. I would recommend staying here hands down.

Calwin Added 2018-08-16

★ ★ ★ ★ ★

Spacious, clean rooms. I highly recommend this hotel for anyone looking to stay in Ottawa. The hotel staff are friendly and well point you in the right direction for any interesting attractions.

Plus the lobby area is always stocked with refreshments!
About marriott.com
Hotels Resorts | Book Hotel Reservations Direct with Marriott
Browse Marriott International's portfolio of hotels discover what makes each brand unique. Take the stress out of travel book your hotel reservation direct.
hotels, hotel, marriott reservation; hotel reservations, hotel reservation, hotel website; marriott hotel reservation