KNT Nails & Foot Spa
Establishment, beauty salon, hair care and spa at 3722 Innes Road, Unit 1, Ottawa, ON K1C 1T1, Canada. Here you will find detailed information about KNT Nails & Foot Spa: address, phone, fax, opening hours, customer reviews, photos, directions and more.
Opening hours
| | |
| --- | --- |
| Sunday | 11:00am — 05:00pm |
| Monday | 10:00am — 07:00pm |
| Tuesday | 10:00am — 07:00pm |
| Wednesday | 10:00am — 07:00pm |
| Thursday | 10:00am — 07:00pm |
| Friday | 10:00am — 07:00pm |
| Saturday | 09:30am — 06:00pm |
Rating
2 /5
Based on 1 reviews
Photos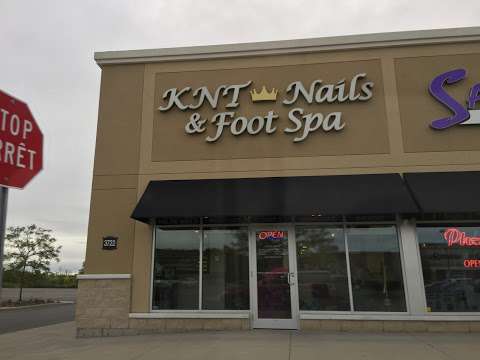 Reviews of KNT Nails & Foot Spa
Terri-Lynn Kennedy Added 2018-06-06

★ ★ ☆ ☆ ☆

This used to be my go to place for manis & pedis... however as of late they are completely going downhill. The last three times I have gone it has gotten increasingly worse. After my first bad experience, I gave them the benefit of the doubt... maybe it was just an off day but after the next two bad experiences I have to guess that it's just the way they operate now. They rush you through without paying attention to detail, there is absolutely no customer service anymore which is the saddest part for me as I used to find the staff so friendly. The last time I cam out, it look as though a grade schooler did my nails... actually no that's an insult to grade schoolers... it looked like I'd had my nails done while riding on a bumpy bus. I hate to see stores change their service level... there are so many options for nails and I gave KNT many chances. I was also a quite annoyed that I was charged for a full manicure when I only had polish applied.